Maral Yessayan Diamond
MELLON DANCE STUDIES

FACULTY/ INVITED SPEAKERS
Michelle Bach-Coulibaly
Michelle Bach-Coulibaly is a performance artist and educator who, since coming to Brown in 1987, has created over 40 original pieces of contemporary movement theatre for the concert stage that investigate socio-political canvases, cross-cultural narratives, and embodied texts. At Brown University she directs New Works/World Traditions, a research-to-performance troupe of actors, musicians, dancers and imagists who develop new theatre for national and international festivals, educational venues, and for the concert stage.  As a long time RISCA supported artist for school programming and education, Bach-Coulibaly has conceived, written and performed over thirty different educational programs that regularly tour nationally and internationally that utilize the power of performance to service public health, sustainable entrepreneurship and egalitarian exchange. Since 1990, her work in Mali has been focused upon building Yeredon, a research center for cultural preservation, international collaboration and social activism. Yeredon is the home for the Bloodline Project, a unique international collaboration and edutainment program to combat the devastating effects of malaria and other debilitating calamities.
Michelle Clayton
Michelle Clayton is an Associate Professor of Hispanic Studies and Comparative Literature at Brown University; she previously taught for ten years at the University of California, Los Angeles. Her work focuses on modern and contemporary Latin American and European writing and film, avant-garde aesthetics and poetry, dance, art history, and media studies. Her first book, Poetry in Pieces: César Vallejo and Lyric Modernity (2011), studied the interplay of language and gesture in the elaboration of Vallejo's lyric politics. In 2008-09 she received a fellowship from the Radcliffe Institute for Advanced Study to begin work on a second project, Moving Bodies of the Avant-Garde, which digs further into the relation between language, gesture, and circulation in the early twentieth century. Focusing on a variety of figures —dancers, artists, poets, actors— in real or virtual movement around the globe, it explores the commentaries on modernity performed by and projected onto their bodies and artworks, tracking and connecting the responses they generated in different spaces and media to produce a more interdisciplinary and transnational image of cultural exchange. Sections from the project appear in Dance Research Journal (2012), in Modernist Cultures (forthcoming), and in edited volumes on Latin American cultural mediators (2009) and Spanish-language poetry (2013).
Mark Franko
Mark FrankoisProfessor of Dance and Coordinator of Graduate Programs at Temple University Department of Dance, and recipient of the CORD award for Outstanding Scholarly Research in Dance (2011). Editor of Dance Research Journal and founding editor of the Oxford Studies in Dance Theory book series, Franko published Martha Graham in Love and War: the life in the work (2012). His other books include Dance as Text: Ideologies of the Baroque Body, Dancing Modernism/Performing Politics and The Work of Dance: Labor, Movement, and Identity in the 1930s, Ritual and Event: Interdisciplinary Perspectives, and Acting on the Past: Historical Performance Across the Disciplines.
Dr. Nadine George-Graves
Dr. Nadine George-Graves (BA, Yale; PhD, Northwestern) is Professor of Theater and Dance at the University of California, San Diego. Her award-winning work is situated at the intersections of African American studies, gender studies, performance studies, theatre history, and dance history. She is the author of The Royalty of Negro Vaudeville: The Whitman Sisters and the Negotiation of Race, Gender, and Class in African American Theater, 1900-1940 and Urban Bush Women: Twenty Years of Dance Theater, Community Engagement and Working It Out as well as numerous articles on African American theater and dance. She is currently editing The Oxford Handbook of Dance and Theater. She is also an adapter and director. Her recent creative projects include Suzan-Lori Parks' Topdog/Underdog and Anansi The Story King, an original dance-theater adaptation of African American folk stories using college students, professionals, and 4th graders. She is currently serving as president of the Congress on Research in Dance (CORD).
Norm Hirschy
Norm Hirschy is an Editor in the Academic and Trade Division of Oxford University Press, where his acquisitions focus on music and dance.  He is the sponsoring editor at OUP for, amongst other titles, Tap Dancing America: A Cultural History, by Constance Valis Hill,Diaghilev: A Life, by Sjeng Scheijen, René Blum and the Ballets Russes: In Search of a Lost Life, by Judith Chazin-Bennahum, and The Astaires: Fred & Adele, by Kathleen Riley.  He also oversees OUP's award-winning audio and video companion website program.
André Lepecki
André Lepecki is Associate Professor at the Department of Performance Studies, Tisch School of the Arts, New York University. Doctoral degree from NYU. Main areas of research: critical dance studies, performance studies and critical theory, continental philosophy and experimental dance, curatorial studies in performance, dance and the visual arts from 1950s to contemporaneity. Selected curatorial work: chief curator of the performing arts festival IN TRANSIT (2008 and 2009), Haus der Kulturen der Welt, Berlin; co-curator of the archive Dance and Visual Arts since 1960s, for MOVE, Hayward Gallery, London (2010). Selected Awards and Felloships: AICA Award Best Performance (2008) for co-curatoring and directing the authorized re-doing of Allan Kaprow's 18 Happenings in 6 Parts (Performa 07); Resident Fellow Institute of Advanced Studies Interweaving Performance Cultures, Freie Universität, Berlin (2009). Edited Publications: Dance (2012), Planes of Composition: dance, theory and the global (2009, with Jenn Joy), The Senses in Performance (2007, with Sally Banes), Of the Presence of the Body (2004). Single authored: Exhausting Dance: performance and the politics of movement (2006).
Kiri Miller
Kiri Miller, Associate Professor at Brown University,  is an ethnomusicologist whose work focuses on popular music, interactive digital media, and amateur musicianship.  Her current research project investigates dance videogames, motion-sensing interfaces, and multisensory interactivity. She completed the Ph.D. in Music at Harvard in 2005 and was a Killam Memorial Postdoctoral Fellow at the University of Alberta before joining the Brown faculty in 2007. Miller is the author of Traveling Home: Sacred Harp Singing and American Pluralism (Illinois, 2008) and Playing Along: Digital Games, YouTube, and Virtual Performance (Oxford, 2012). She has published articles in Ethnomusicology, American Music, 19th-Century Music, the Journal of American Folklore, Game Studies, Oral Tradition, and the Journal of the Society for American Music. In 2010-11 she held fellowships from the Radcliffe Institute for Advanced Study and the American Council of Learned Societies. Miller's regular course offerings include Musical Youth Cultures, Diaspora Music in the Americas, Introduction to Ethnomusicology, Music and Technoculture, Ethnography of Popular Music, World Music in Theory and Practice, and Sacred Harp Singing.
Adrian Moore
Adrian Moore has a bachelor's in dance and anthropology from Wesleyan University and a master's in public humanities from Brown University with a concentration in dance programming for museums and art organizations. She has developed projects that incorporate performance, fine arts, and history at The Institute of Contemporary Art in Boston, Merce Cunningham Dance Company, Y-Space (Hong Kong), the National Museum of American History, Jacob's Pillow Dance Festival, and the Smithsonian Folk Life Festival. Before coming to Providence, she served as program director for Arts for the Aging and danced with Nancy Havlik Dance performance group in Washington, DC. Working with American Dance Legacy Initiative, Adrian focuses on public engagement and cultural contexts. She designed and facilitated a variety of collaborative projects: an exhibition with the Brown University Library, a performance-based installation with local high school and university students, and a "docent-led" works-in-progress showing. Adrian currently works as the Communications & Operations Coordinator at New Roots Providence.
Julie Strandberg
Senior Lecturer, Brown University
Julie Adams Strandberg, co-founder of The American Dance Legacy Institute, is Artist-In-Residence and Founding Director of Dance at Brown University. Click here for full biography.
Suzanna Tamminen
Suzanna Tamminen, Director and Editor-in-Chief, has a B.A. '90 and MALS '94 from Wesleyan University, and has worked at the press since 1990. Her poems and essays have appeared in various journals including Prairie Schoonerand The Alembic. Suzanna is an active member of the Connecticut Down Syndrome Congress. She lives in Durham with her husband, three children, two cats, and a crooked little dog.
POSTDOCS and ALUMNI
Jasmine Johnson
Jasmine Johnson is the Postdoctoral Fellow in African American Studies at Northwestern University. She received her PhD in African Diaspora Studies at UC Berkeley. Her research interests include diaspora theory, Afro-diasporic dance, black feminist ethnography, and West African history and politics. Dr. Johnson's book manuscript, The Purchase of Diaspora, is a multi-sited ethnography of West African dance practice in the United States and Guinea. A Ford Foundation Diversity Fellow, Dr. Johnson has been the recipient of a number of fellowships and grants. She is also a practitioner, and is currently dancing with Muntu Dance Theater of Chicago.
Anusha Kedhar
Anusha Kedhar (Ph.D. Critical Dance Studies, UCR) is both a scholar and practitioner of dance. Her book project, tentatively titled "On the Move: Transnational South Asian Dancers and the 'Flexible' Dancing Body," is an ethnographic study that examines the friction of racialized bodily encounters in an age of neoliberalism and the corporeal dimensions (and limits) of 'flexible citizenship' (Ong 1999). In 2008, she was a Fulbright Scholar to India and in 2009 she was the recipient of the Selma Jeanne Cohen award by the Society of Dance History Scholars for excellence in dance scholarship. Anusha is also an established artist and choreographer in the field of Indian dance. She has been practicing Bharata Natyam for over 30 years and has worked with some of the pioneers of contemporary Indian dance in the UK, including Mavin Khoo, Mayuri Boonham, Subathra Subramaniam, and Shobana Jeyasingh. Her own choreography has been presented on various international stages, including Glorya Kaufman Hall (Los Angeles), Roehampton University (London), the Southbank Centre (London), and the Mediterranean Institute for Theatre Performance (Malta). She is currently an Assistant Professor at the University of Malta and will be joining the faculty of Theatre and Dance at Colorado College in the Fall.
Brandon Shaw
Brandon Shaw (PhD Comparative Literature, UMass Amherst) is Mellon Fellow in Dance Studies at Brown University. His dissertation, "Sitting-there: Embodied Perception, Kinesthetic Empathy, and Reading Pain in Concert Dance," explored spectatorship through a critical phenomenological lens. He is currently focusing on interactions between dance and literature (particularly Shakespeare adaptations) and representations of grief in dance. The latter interest coincides with Brandon's community work through the Institution for the Study and Practice of Nonviolence, which works with both victims and perpetrators of violent crime in Providence. Brandon is trained in contemporary dance, tango, and Contact Improvisation and weaves these styles together as director of Cleave/Brandon Shaw.
Jose Luis Reynoso
Jose Luis Reynoso is the Andrew Mellon Postdoctoral Fellow in Dance Studies at Northwestern University. He completed his Ph.D. in Culture and Performance, with a specialization in Dance Studies, and an M.F.A in Choreography at UCLA. He also holds a M.A. and a B.A. in Psychology from California State University Los Angeles. His interests include critical theory and pedagogy, the explicit and implicit politics of choreography, ideologies of artistic identity, and the role of corporeality in knowledge production. Applying these perspectives, Jose writes and teaches about various aspects of modern/cotemporary dance in Mexico and the U.S. with an emphasis on the intersection of race, gender, class and sexuality.
SUMMER SEMINAR 2013 PARTICIPANTS
Zoa Alonso
Zoa Alonso received her Ph.D. in Classics from the University of Madrid (Spain) in September 2011. Focusing on the Greek and Latin sources, her dissertation explores the role of dance in Ancient Rome and analyzes the presence of choreographic performances in every cultural context, from public festivals to military displays, pantomimes, acrobatics, symposiastic dances or private rituals inside the house. Zoa is currently preparing the edition of her thesis for a broader audience and has started to study the reception of Ancient culture -especially Roman- in classical, modern and contemporary dance. She still combines her academic tasks with dancing practice and has conducted research stays at Harvard University, Université de Paris IV-Sorbonne, Oxford University, the Warburg Institute of London and University College Cork.
Biba Bell
Biba Bell lives and works in Detroit and NYC. Bell's performance work has been shown at the Detroit Institute of Art, Centre Pompidou, The Garage for Contemporary Culture Moscow, Performa, Creative Time Miami Art Basel, Artissima Turin, The Kitchen, Pace Wildenstein, Jack Hanley Gallery, Judson Memorial Church, amongst other galleries, theaters, libraries, spas, garages, and homes. Residencies include Massachusetts Institute of Technology, Pacific Northwest College of Art, and PARTS. Bell is a founding member of MGM. She theorizes post-studio dance and site specificity in contemporary choreographic practice as a PhD candidate (ABD) in the department of Performance Studies at NYU.
Naomi Bragin
Ph.D. candidate, Performance Studies, UC Berkeley; M.A. Folklore, UC Berkeley; BA, Dance, Wesleyan University. Research interests: dance, black critical theory, new media, performance ethnography, queer-of-color critique. A Eugene Cota Robles Fellow, Naomi's research draws from twenty-years work as an educator, choreographer, activist, and underground dancer. Her dissertation, Hip Hop Dance is Black Power: Kinesthetic Politics and Black Performance, is the first major theoretical investigation into the California foundations of hip-hop dance. As Founding Artistic Director of Oakland-based DREAM Dance Company, Naomi has received funding from Creative Work Fund, Ford Foundation, Zellerbach Foundation, California Arts Council, and East Bay Community Foundation.
Rachel Carrico
Rachel Carrico is a Ph.D. candidate in Critical Dance Studies at the University of California, Riverside. Her dissertation examines the role of dance in New Orleans's parading traditions, and her research was recently published in TDR:The Drama Review. In 2008, Rachel co-founded the New Orleans-based ensemble, Goat in the Road Productions, with whom she has produced numerous original performances and created a youth playwriting festival. Rachel holds an M.A. in Performance Studies from New York University and has received several awards, including UCR's Graduate Research Mentorship Fellowship and a Humanities Graduate Student Research Grant from the Center for Ideas and Society.
Clare Croft
Clare Croft is a postdoctoral fellow in the Society of Fellows at the University of Michigan, where she is also an Assistant Professor in the Department of Dance. Clare is completing her book, Funding Footprints: Dance and American Diplomacy (Oxford UP), which examines US State Department sponsorship of international dance tours. Clare is also at work editing the anthology, Meanings and Makings of Queer Dance. Clare's writing has appeared in Dance Research Journal, Theatre Journal, Theatre Topics, The Washington Post, and the Austin American Statesman. Clare holds a PhD in Performance as Public Practice from the University of Texas-Austin.
Alana Gerecke
Alana Gerecke is a Trudeau Scholar and a doctoral candidate in the English Department at Simon Fraser University (Vancouver, Canada). Her dissertation examines the spatial and social politics of contemporary dance set in public, urban places along the North American west coast. She has been published in The Dance Current, Dance Research Journal, and Renegade Bodies: Canadian Dance in the 1970s (Dance Collection Danse, 2012). A professional contemporary dancer, Gerecke is a co-founder of the Behind Open Doors Arts Collective (2004-present), a company member with EDAM Dance (2006-present), an active independent dance artist, and an emerging choreographer.
Jennie Goldstein
Jennie Goldstein is a doctoral candidate in art history and Graduate Council Fellow at Stony Brook University, where she is working on her dissertation "Moving Bodies, Moving Things: Convergences of Art and Dance, 1960-1975." She is a 2013 recipient of the Walter Read Hovey Memorial Fund award from the Pittsburgh Foundation as well as a Joan Tisch Teaching Fellow at the Whitney Museum of American Art, New York.
Ana Paula Höfling
Ana Paula Höfling is an Andrew W. Mellon Postdoctoral Fellow at the Center for the Americas at Wesleyan University (2012-2014).  She holds a PhD in Culture and Performance and an MA in Dance from UCLA, and an MFA in Dance from the University of Hawai`i.  Her research bridges the disciplines of dance studies, Latin American studies, African diaspora studies, and critical tourism studies. Her book manuscript, Staging capoeira: choreographies of Afro-Brazilian modernity, examines the collaborations between Brazilian capoeira practitioners, folklorists, directors, and tourism bureaucrats in the process of staging capoeira as both "national" and Afro-diasporic culture, from the 1920s through the 1970s.
Francesca Ingelese
Francesca is a Ph.D. candidate in ethnomusicology at Brown University. She received her B.A. in music from Vassar College and an M.A. in ethnomusicology from the University of Toronto. She has studied, performed, and taught Baroque, Jazz, and Carnatic violin. Her current ethnographic dissertation research is centered on the music and embodied practices, public parades, and youth development projects of minstrel troupes (Kaapse Klopse in Afrikaans) in Cape Town, South Africa. She is interested in how, through performance, musical sounds and embodied gestures become public acts that enable participants to revisit and revise apartheid categories in the new South Africa.

Gillian Lipton
Gillian Lipton recently received her Ph.D. in Performance Studies from NYU and holds a B.A. from Brown University. Her dissertation draws on Dance Studies, Continental Philosophy, and Critical Theory to propose a theory of disfiguration in the work of Ralph Lemon, William Forsythe, and Meredith Monk. Currently, Gillian is researching the aesthetic and moral tradition of grace in western choreographic poetics and exploring it as an American virtue reimagined by contemporary American choreography.  In addition to her academic work in dance, she has performed with Douglas Dunn, Richard Foreman, and Nancy Meehan, served as dramaturge for Jennifer Monson, and is collaborating with visual artist Monika Weiss on an ongoing performance installation at The Museum of History and Memory in Chile.
James Moreno
Before joining the University of Kansas Dance Department as Assistant Professor in 2012, Moreno was Visiting Professor of Dance at the University of Panamá in Panamá City, Panamá and Visiting Guest Artist at the National School of Dance of Panamá. Moreno holds PhD in Performance Studies from Northwestern University and is a Fulbright Scholar. His scholarship explores how José Limón's story-ballets cut across gendered and raced categories to re-shape the nexus of whiteness and heteronormativity at the foundation of "American" identity. Moreno has performed the choreography of Martha Graham, Merce Cunningham, José Limón, Lucinda Childs, and Zvi Gotheiner, among others.

Richard Move
Richard Move is Director of MoveOpolis!, a TEDGlobal Oxford Fellow, Ph.D. (ABD) in Performance Studies at NYU and Lecturer at Yale School of Drama.  He received his M.F.A. in Media Arts Production from CCNY. Move's commissions include works for the White Oak Dance Project, Martha Graham Dance Company, Florence Opera Ballet, European Cultural Capitol and the Guggenheim Museum. His films include Bardo, Jury Prize nominee at Lincoln Center's Dance on Camera Festival, BloodWork, National Board of Review Award and Ghostlight, Tribeca Film Festival premiere. Martha@…, Move's performances as Martha Graham, tours internationally and was named "Best of 2011" by ARTFORUM International.
Ariel Osterweis
Ariel Osterweis is Assistant Professor of Dance at Wayne State University. She earned her Ph.D. in Performance Studies at UC Berkeley and B.A. in Anthropology at Columbia University. At work on her first book, tentatively titled, Embodying Virtuosity: Desmond Richardson and the Politics of Race and Gender in Performance, Osterweis also researches contemporary African dance and the disavowal of virtuosity in feminist and transgender live art and performance. Publications appear in Dance Research Journal, Women and Performance, e-misférica, and more. She danced professionally with Complexions Contemporary Ballet, Mia Michaels, and Heidi Latsky, choreographs, and is currently dramaturg for performance artist Narcissister.
Ryan Platt
Ryan Platt is Assistant Professor of Performance Studies in the Department of Theatre & Dance. He holds a BA in Theatre & Dance and French Studies from Amherst College and a doctoral degree from Cornell University, where he studied 20th-century and contemporary performance in the context of French and German literature and theory. He has also studied at the Université de Paris VI and at Humboldt-Universität in Berlin with the support of a DAAD Research Fellowship. Ryan's writing has appeared in PAJ and Theatre Journal. His current research explores connections between movement in performance and media theory in works by artists such as William Forsythe, Yvonne Rainer, Ralph Lemon, Chantal Akerman, Phil Solomon, and Theresa Hak Kyung Cha.
Celia Tuchman-Rosta
Celia Tuchman-Rosta is Ph.D. Candidate in the department of anthropology at the University of California, Riverside. Her dissertation project, "Survival of an Art: The Revitalization of Classical Dance in Cambodia" investigates how tourism and globalization impact the embodied experiences of performing artists. It also explores the importance of the art form for identity re-construction and cultural reconciliation after the country's devastating civil war. In 2011 and 2012, she conducted 18 months of ethnographic research in Phnom Penh and Siem Reap with support from the Center for Khmer Studies and Fulbright IIE, and she currently is writing her dissertation.
Micah Salkind
Micah Salkind is pursuing a Ph.D in American Studies at Brown University. His writing on Afro-Diasporic cultural production, including articles South African popular music and global house dance culture, complements his work towards establishing innovative models for sustaining community art institutions and art-makers in Rhode Island. A DJ, sound designer, and curator of live performance, Salkind is currently developing The Workshop for DJ Performance and Recorded Sound, a series of free nine-hour, mentorship-driven, learning modules designed to develop and share the knowledge and skills of Rhode Island-based and visiting DJs with young people and adults in The Ocean State.
Noémie Solomon
Noémie Solomon is a Mellon Postdoctoral Fellow in the Faculty of Arts at McGill University where she is researching the Québécois dance scene after 1948.  She holds a PhD in Performance Studies from NYU. Her writing and translations have been published in Perform, Repeat, Record; Planes of Composition; TDR; Dance Research Journal. Noémie collaborated on research, dramaturgical, and curatorial initiatives with the iDANS festival of contemporary dance and performance (Istanbul, 2009); the Tanzquartier (Vienna, 2011); the Musée de la danse (Avignon, 2011); and Danspace Project (New York, 2013).
James Steichen
James Steichen is a PhD candidate in musicology at Princeton University and is completing a dissertation on George Balanchine and the early history of the New York City Ballet. He has authored reference articles on impresarios Lincoln Kirstein and Rolf de Maré for the Routledge Encyclopedia of Modernism and has published two articles on the Metropolitan Opera's "Live in HD" cinema broadcast initiative. His reviews and translations have appeared in The Opera Quarterly, The Yale Review, and TLS. He studied comparative literature at the University of Virginia and holds a master's degree in humanities from the University of Chicago.
Michelle T. Summers
Michelle T. Summers is a Ph.D. candidate in Critical Dance Studies at the University of California, Riverside. She received her M.A. in Performance Studies from New York University, and her B.F.A. in Ballet and B.A. in English from Texas Christian University. Her research investigates the cultural politics of white Christian sacred dance in the United States focusing primarily upon the racial and gender implications that emerge in the form's modern development. Summers is an active choreographer, teacher, and dancer in the Los Angeles area.
Lester Tomé
Lester Tomé, PhD, is an assistant professor of dance theory and Latin American studies at Smith College and the Five College Dance Department. Previously, he was a dance critic in Cuba and Chile. His book about the Cuban ballet (under preparation) conceptualizes ballet as a globalized art, and examines the cosmopolitan, nationalist and postcolonial forces that shape cultural production in Cuba. He has contributed chapters to Diálogos con la Danza (2004) and The Cambridge Companion to Ballet (2007), and articles to Dance Chronicle, Dance Research Journal of Korea, Encuentro de la Cultura Cubana, and Dance Magazine.  In 2013-14, Lester will be the Peggy Rockefeller research fellow in Latin American Studies at Harvard University
Maral Yessayan
Maral Yessayan is an Andrew Mellon Postdoctoral Fellow at Dartmouth College and a GRID fellow at the Gender Research Institute also at Dartmouth. She holds a PhD in Critical Dance Studies from the University of California-Riverside. Yessayan's book manuscript Staging Jordan: Gender and Labor on the Transnational Stage combines her own embodied experience as a national performer with feminist performance ethnography and political history to examine Jordanian national dancers as temporary workers and hobbyists who negotiate issues of gender, sexuality, and Islam while materializing the monarchal vision of a modern Jordan.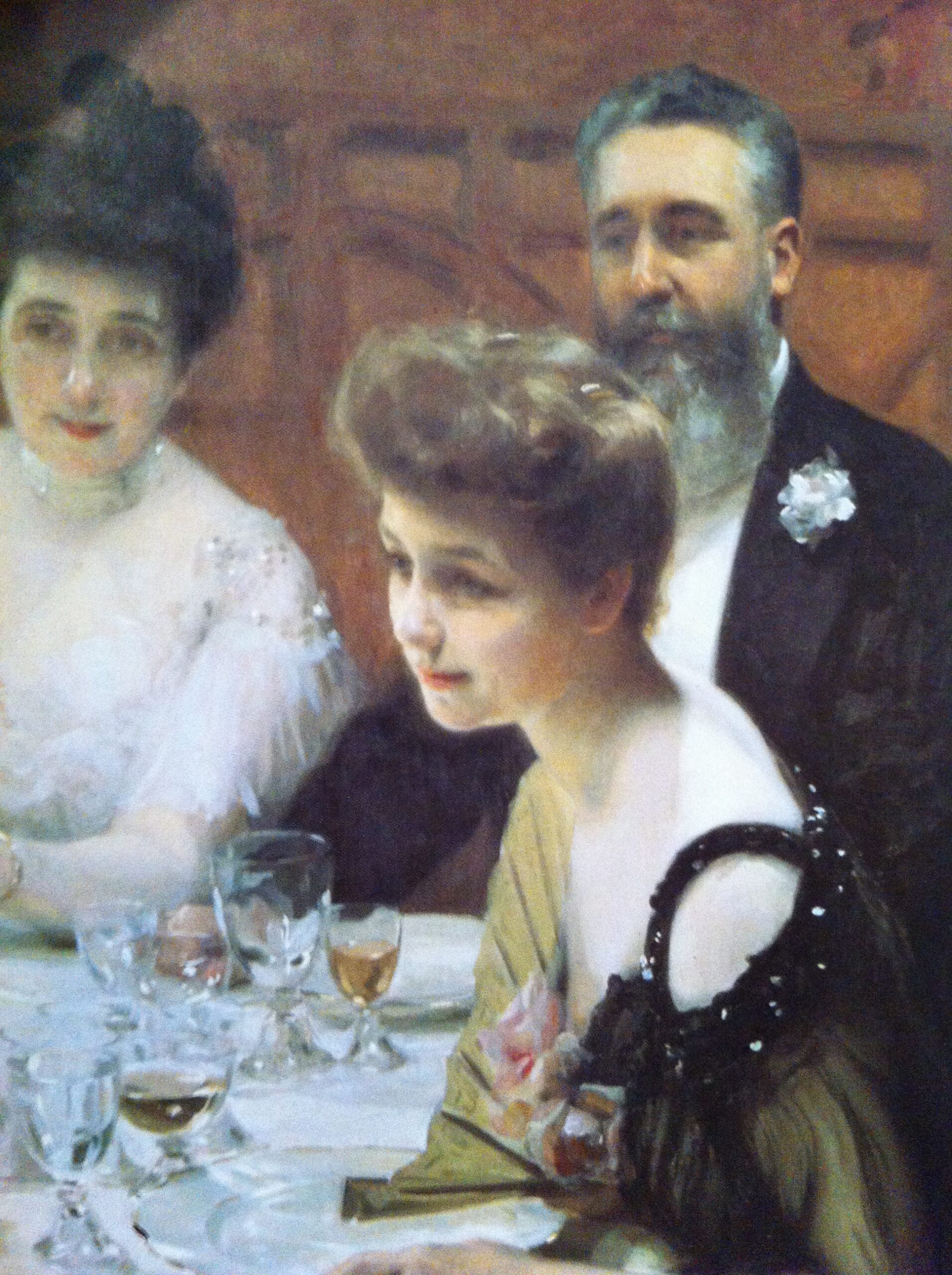 1st Class dining on the Titanic
April 14th marks the 100th anniversary of the sinking of the Titanic.  On Sunday, April 14, 1912 at 11:40 pm, Titanic struck a giant iceberg and by 2:20 am on April 15, the "unsinkable ship" was gone.  Canadians have a special connection to Titanic: the great ship sank in the chilly waters south of Newfoundland, and Canadian vessels were involved in the recovery efforts. Over 100 victims of the Titanic are buried in the Fairview Cemetery in Halifax.
The fictional Crawley family suffered the loss of two heirs on Downton Abbey; in reality many of the wealthiest families in America were affected.  Far worse were those in third class.  Whole families had been traveling together to American to start a new life.Titanic's story is appealing on many different levels.  Social historians use this specific point in time to demonstrate life in the Edwardian world, with its strict class distinctions, and the charmed life of the aristocracy who were obsessed with etiquette and love of fine food.  Like Titanic, class distinctions would be splinted by World War I.  Over the next month I will be focusing on various aspects of the lifestyles of both upper and lower classes.
I well remember that last meal on the Titanic.  We had a big vase of beautiful daffodils on the table, as fresh as if they had just been picked.  Everybody was gay, and people were making bets on the probable time of this record breaking voyage. First class passenger Lady Duff-Gordon
Titanorak alert
Titanoraks are those people obsessed with every detail of Titanic.  They normally stick to themselves but for they will be out in droves for the centennial.  In case of an encounter, arm yourself with knowledge: this link provides some of the bestTitanic sources.
Julian Fellowes happens to be one of the most famous of the bunch.  His Downton Abbey story lines are directly tied to the Titanic sinking.  His upcoming Titanic four part mini-series might best be described as "Downton at Sea", continuing the interactions of the social classes.  A large portion of its audience will likely be Downton fans anxiously awaiting Season 3.
Titanic the Mini-Series vs. Titanic the Movie

Luke Jones had the privilege of pre-screening two segments of the new mini-series for Huffington Post.  The Good news is that the cliches are limited to the obvious, and promises to deliver the same sort of snide quips that Downton is known for: "I'd rather freeze to death outside than stand here with these ghastly women" and "some of them look suspiciously like Catholics".  The sad news is that we will have to endure the sinking of the ship at the end of every episode, each told from a different perspective.  In the final installment we will find out who survives.  I was pleased that Luke mentioned Maria Doyle Kennedy's performance.  Downton fans will remember her as Mr. Bates' evil wife; it sounds like she has landed a substantive role in this drama.
Check your local listings, but I understand that Titanic will air on ABC in the US, with 3 installments on April 13, the finale on April 14th.  In Canada, the series will run weekly starting on March 21st on Global TV in the Toronto area.
Dining with the Astors
The most well known passenger was Colonel John J. Astor, the richest man in America at that time.  We discussed at the outset that upper classes were obsessed with proper etiquette and rituals as a way of enforcing class distinction.  You may find inspiration from some of these rituals for your own Titanic Tribute.
A bugler called the passengers to dinner with the tune "The Roast Beef of Old England".
The gentleman offered his right arm to his lady and escorted her to her place, which was always to his right, held her chair for her then sat down himself.
Edwardian menus were greatly influenced by the elaborate and heavily sauced cuisine by noted French Master Auguste Escoffier.
As you can tell from the 1st class menu, the variety allowed one to eat as little or as such as he or she liked.  While Edwardians had legendary appetites, it is likely that much food was left on their plates.
Titanic loaded 1,221 quarts of oysters when it left Southampton and was a staple in first class.
The common after dinner custom was to divide the gentlemen and ladies, the former to smoke cigars, the latter gathering for coffee, cordials or port.
The Titanic Tribute Dinner Menus and Recipes: A Recap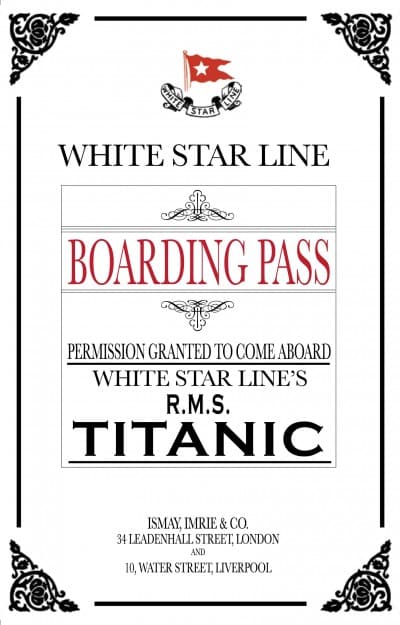 this lovely invitation links to Eva's blog
Over the last few months we have been steadily working through Titanic menus and recipes.  If you are planning a tribute dinner you should already be deep in planning.  My talented friend Eva prepared invitations for her friend's upcoming party.  She blogs about food at Kitcheninspirations, but she is also a very talented graphic designer.  I am partial to her work, particularly since she designed our wedding invitations.Testing dishes is also an important part of the process.  I have used actual Titanic menus and Last Dinner on the Titanic as guides.  The book not only lists recipes for the specific dishes mentioned, but provides alternative dishes popular at that time.
Here is a list of all the dishes from all 3 menus:
The First Course in 1st Class
The actual 1st class menu doesn't describe the first course in detail, other than to indicate "hors d'ouevre variés" and "oysters".  Titanorak foodies have contented themselves with agreeing on Canapés à L'Amiral, an Escoffier standard.  If you wish to explore other possibilities, you may wish to consult a classic French cookbook.
Canapés à L'Amiral
from Last Dinner on the Titanic
Makes 20 hors d'oeuvres
Ingredients:
1/2 thin baguette
1 tsp. lime juice
10 small shrimp, halved lengthwise, cooked
Fresh flat-leaf parsley
2 tbsp. fish roe (while caviar was likely used on Titanic, flying fish roe/tapiko has great color, taste and is less expensive)
SHRIMP BUTTER
1 tablespoon vegetable oil
1 large shallot, minced
1 clove garlic, minced
8 oz. shrimp in shell
1/4 cup brandy
4 oz. cream cheese, softened
2 tablespoons. butter, softened
1 tablespoon tomato paste
1/4 teaspoon each salt and pepper
Dash vanilla
Method
In skillet, heat oil over medium heat; add shallot and garlic; cook, stirring often, for 5 minutes or until softened.
Increase heat to high, add shrimp and sauté, stirring, for 3 to 4 minutes or until shells are pink and flesh is opaque.
Transfer shrimp and vegetables to bowl of food processor. Return pan to stove and pour in brandy; cook, stirring, for 30 seconds or until brandy is reduced to a glaze; scrape into shrimp mixture.
Puree shrimp mixture until finely chopped. Add cream cheese, butter, tomato paste, salt, pepper, and vanilla. Process until almost smooth. Press shrimp mixture through coarse sieve set over bowl; discard shells.
Slice baguette into 20 thin slices. Place on baking sheet and toast under broiler for 1 minute per side or until lightly golden. Reserve.
Drizzle lime juice over cooked shrimp halves; stir and reserve.
Place shrimp butter in piping bag fitted with star tube. Pipe shrimp butter onto toasts. Alternatively, use a table knife to spread on to the toast.
Top with a cooked shrimp half and a parsley leaf.
Top each canapé with an equal amount of fish roe.
Oysters a la Russe
Serves 6
Ingredients
2 tablespoons vodka
1/2 teaspoon lemon juice
1/4 tsp. prepared horseradish (I added a little more)
Dash hot pepper sauce
Pinch salt
Pinch sugar
1 plum tomato, seeded and finely chopped
1 tbsp. chives, finely chopped
12 large oysters
Coarsely cracked black peppercorns
Method
In bowl, stir together vodka, lemon juice, horseradish, hot pepper sauce, sugar, salt.
Gently stir in tomato and chives.
Wash oysters under running water to remove any loose barnacles or sand.
Insert tip of oyster shucker between shell halves near hinges; twist upward to open shell. Discard top shell, Using blade of shucker, sever connective membrane that holds oyster to bottom shell. Place open oysters on bed of shaved or crushed ice.
Spoon vodka relish over each oyster; dusting with cracked pepper.
Get your own copy
Tools of the Trade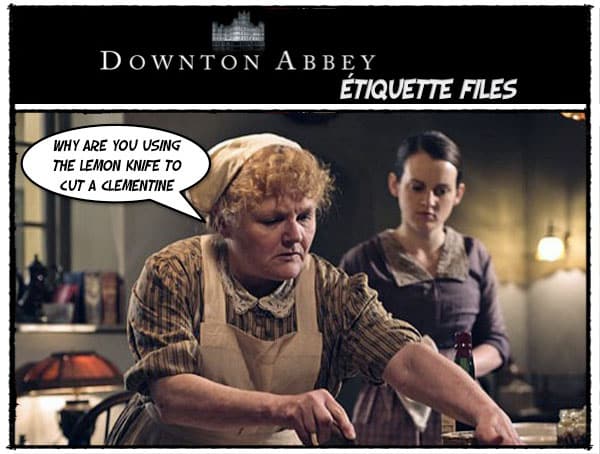 While cooks in Downton's era may not have had exactly the same type of kitchen gadgets, Victorian cooks did start the craze for creating a tool for each job in the kitchen, so I blame our ancestors for my obsession with collecting these time savers. I do love the hunt in my local cooking stores, but you can order this stuff directly from Amazon so you have more time to watch Downton.
Oyster Shucker:  You definitely need an oyster shucker to work with oysters and Good Grips has a great version with thick padding.  This is what you should be looking for in the store, or click to order online.